Calendar / Upcoming Programs: Workshops
Saturday, June 23, 2018 -

1:00 pm

to

3:00 pm
This introductory workshop explores weaving as a powerful creative tool for healing and self-discovery, transforming MAD's sixth floor into a safe space in which to address our physical ailments, traumas, anxieties, and struggles. Emphasis will be placed on the ways in which color, texture, pattern, and process combine to express our memories and initiate healing.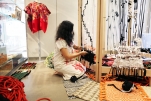 Saturday, July 14, 2018 -

1:00 pm

to

3:00 pm
Artist Studios Program alum and current summer studio resident Cynthia Alberto leads this workshop highlighting weaving techniques and sustainable practices.
Exhibitions on view today