Calendar / Upcoming Programs: Artslab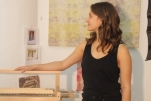 Friday, November 16, 2018 -

4:00 pm

to

6:00 pm
Nearly every color can be created with natural dyes made from scratch using ingredients from your local supermarket, including herbs, fruits, and vegetables. Join fiber artist Victoria Manganiello for this hands-on workshop and learn to create and mix your own natural dyes for use on organic fibers.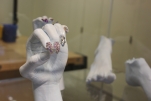 Friday, December 14, 2018 -

4:00 pm

to

6:00 pm
Join artist and activist Emma Sulkowicz for an introduction to life casting. Participants will work in pairs to make a mold of their own hands using the nontoxic alginate method. The
Friday, January 4, 2019 -

4:00 pm

to

6:00 pm
Join artist Lily Moebes for a non-traditional multimedia workshop exploring expressions, postures, and gestures as eloquent communicative tools through mask-making and figure drawing.