Artist and educator Jennie Maydew employs traditional craft methods to achieve modern utility. At MAD, Maydew will construct a system of customizable, egalitarian, and modular storage components for garments titled Wearable Auxiliaries. The system is constructed from a no-...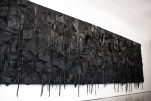 Visit Anthony Akinbola this Wednesday, Thursday, Friday, and Saturday in the Artist Studios at MAD.
The Museum of Arts and Design has selected Anthony Akinbola as its eighth MAD Artist Fellow. Created in 2016, the fellowship is dedicated to promoting emerging artists from historically underrepresented communities. MAD Fellows work on site fulltime in a dedicated studio...
The Art and Design of Vera Neumann
Thursday, August 8, 2019

to

Sunday, January 26, 2020
Thursday, September 12, 2019

to

Sunday, February 23, 2020
Thursday, October 3, 2019

to

Sunday, April 12, 2020