Museum Hours Today
10 am to 6 pm
Docent Tours
There are docent tours at 11:30 am and 3 pm. Docent tours are free with admission and meet in the lobby.
Artist Studios
Monika Zarzeczna's sculptures stem from an exploration of objects, forms, and their perceived purpose, asking deeper questions regarding the intent and history of an object. Zarzeczna assembles and preserves collected materials, colors, and found objects to create work that...
Visit Emma Sulkowicz this Thursday, Friday, and Saturday in the Artist Studios at MAD.
Emma Sulkowicz earned a BFA in Visual Arts from Columbia University and studied studio art in the Whitney Museum Independent Study Program. They are perhaps best known for their senior thesis at Columbia, Mattress Performance (Carry That Weight), an endurance...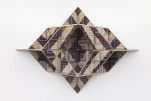 "Big Dada", 2018, Antique quilt, birch plywood, gold leaf, 66h x 96w x 27d in. Courtesy of Monique Meloche Gallery"
Members
Tuesday, October 23, 2018 - 5:30 pm
Curator's Circle and above are invited to join MAD's William and Mildred Lasdon Chief Curator Shannon R. Stratton for an exclusive studio visit with notable artist Sanford Biggers.
Exhibitions on view today