Tuesday to Sunday from 10:00 am to 6:00 pm
Thursday and Friday from 10:00 am to 9:00 pm
Closed Mondays and major holidays
General: $16
Seniors: $14
Students: $12
Members: FREE
18 and under: FREE. This does not include groups
Group Rate (8 or more): $12
All groups must make reservations, including during Pay-What-You-Wish hours.
KLM Thursdays from 6:00 pm to 9:00 pm: Pay-What-You-Wish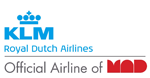 Guided Gallery Tours
MAD's volunteer docent corps lead lively discussion-based visits to museum highlights; available on a first-come, first-served basis. Tours last 45-60 minutes and are free with admission. Daily: 11:30 am and 3:00 pm with an additional 6:30 pm tour on Thursday evenings. This does not apply to groups; groups need to make private tour reservations: Click here
Private Tours for Groups
Groups can book private docent-led tours, lasting approximately 60 minutes. All groups, whether docent-led or non-guided, must make a reservation in advance (docent-led tours need 30 days notice; non-guided tours need 7 days notice). Click here for more information or to book a tour.
MADLab for K-12 School Groups
This 90-minute program for students offers a museum tour and hands-on workshop; designed to engage students through direct observation, participation, and exploration through 3D art-making. Click here for program details and to book a MADlab.
MAD prides itself on providing access to art and artists, materials and process, and helping to provide that access to visitors with disabilities is an important part of our mission.  
Click here to read about the ways in which MAD makes itself accessible.

The Store at MAD offers a cohesive presentation of well-executed craft, design objects, jewelry, home and fashion accessories.
Phone
212.299.7700
Mon – Wed and Sat: 10 AM – 7 PM
Thurs – Fri: 10 AM – 9 PM
Sun: 10 AM – 6:00 PM
Visit The Store website for more information
Robert is open for lunch, tea service and dinner serving contemporary American fare with Mediterranean influences prepared by chef Luisa Fernandes.
Phone
212.299.7730
Visit the Robert website to view an online menu
Docent Tours
There are docent tours at 11:30 am and 3:00 pm. Click here for daily schedule. Docent tours are free with admission and meet in the lobby.
Open Studios

Austin Ballard's practice offers a platform for questioning our heavily designed lived environments by merging them with those objects and places that often appear uncategorized, unstable and inhospitable. Serving as a connection of man-made architecture and the natural...
Friday, August 26, 2016 -
Every final Friday throughout the run of Atmosphere for Enjoyment: Harry Bertoia's Environment for Sound, MAD invites musicians to create sound recordings with the installation of sonambients in the exhibition. Studio Sessions may be booked in one hour segments.