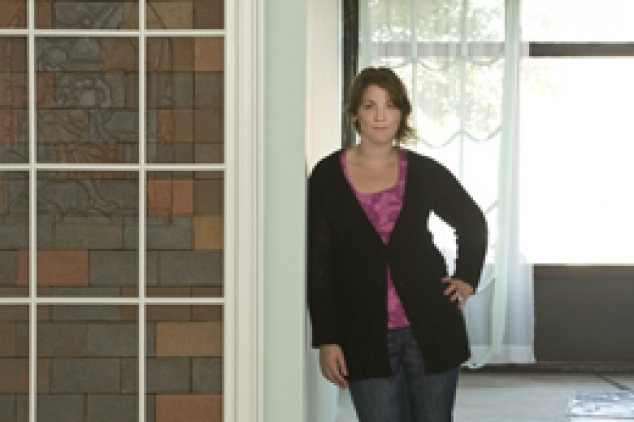 Samantha Hookway
Artist Samantha Hookway
click image to enlarge
Sleep Tight Dear Pablo for an Average of 1,041,000 Benjamins

Sleep Tight Dear Pablo for an Average of 1,041,000 Benjamins, leaded glass and paint...

click image to enlarge

Bottle Feeding a Whale

Bottle Feeding a Whale, mixed media, 2010

click image to enlarge
"I believe it is a transformative time in contemporary culture when glowing screens constantly bombard us. For me, these screens function similarly to a window.  This is especially noticeable while one surfs the Internet, a virtual window to the world. In many ways my life has been one of filtering through interfaces of windows from actual to virtual, all of which act like screens situated in-between two spaces. Thus, windows metaphorically and literally act as a space located between two defined worlds. The window's potency is the capacity to reveal or block one space from another at the same time, be it the divine and the worldly, the inside and outside, and/or the fictional and nonfictional. The goal of my work is to explore and unlock this window between spaces, while simultaneously investigating ideas of culture.
It is my hypothesis that the window with its "in-between" nature is in fact existing in a 2.5 dimensional space. My sculptural hybrids pull from both painting and stained glass window references exist somewhere between flat images and three-dimensional objects. I tend to use history as an initial departure point and often experiment with my materials."
Samantha Hookway is originally from a small town in north-central Ohio. She holds her MFA specializing in glass from The Tyler School of Art, Temple University in Philadelphia, Pennsylvania and her BFA in glass from The Ohio State University in Columbus Ohio. From 2006 through 2008, Samantha studied as a guest student in the sculpture department at Kungliga Konsthögskolan (The Royal University College of Fine Art) in Stockholm, Sweden. She has also participated in workshops at Pilchuck Glass School in Stanwood, Washington, Penland School for Crafts in Penland, North Carolina and The Glass Furnace in Istanbul, Turkey. She has shown her work both internationally and nationally–most notably at Galleri Mejan in Stockholm, Sweden, Galleri Blunk in Trondheim, Norway and the Gray Area of Crane Arts in Philadelphia. She is currently based in Philadelphia and happily commuting into New York for the MAD Museum.
For more information please visit: www.samanthahookway.com