The Artist Studios host artists and designers daily as they produce their work in a live studio environment. Visitors to MAD meet working artists who openly welcome questions and dialogue, and discuss their processes, materials, and concepts with diverse members of the public. This program serves as an innovative model of interactivity and engagement that benefits local artists and Museum visitors through observation, making, and discussion of creative processes.
Tuesday–Sunday: 10 am–1:30 pm and 2:30 pm–5 pm
Thursday and Friday evenings: 6:00 pm–8:30 pm
The Artist Studios are supported by the Van Lier Fund of The New York Community Trust, the New York State Council on the Arts with the support of Governor Andrew Cuomo and the New York State Legislature, and the New York City Department of Cultural Affairs in partnership with the City Council.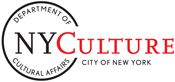 Plastiglomerate (micro plastic, rock, sand, basalt, coral and wood)