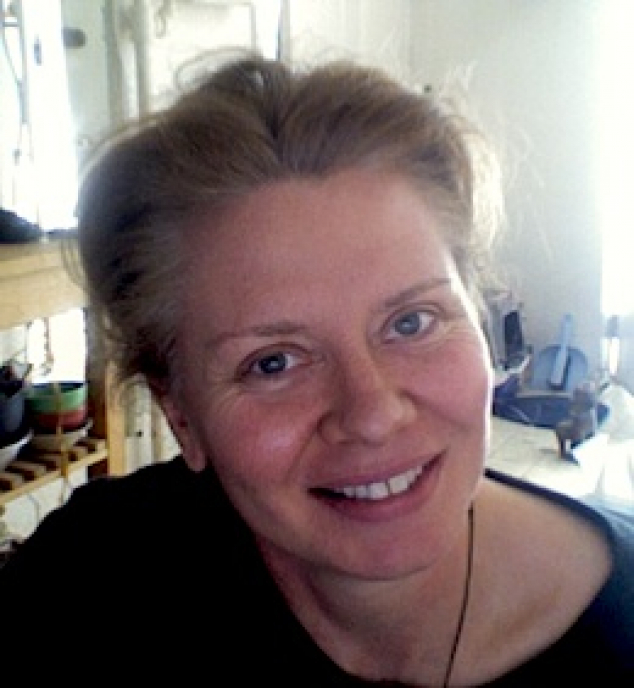 Ruth Marshall
Artist Ruth Marshall
click image to enlarge
Two Ocelots

Two Ocelots at right, knitted yarn, 2009 & 2010

click image to enlarge
"My art is related to and bound by a fascination with animals.  In essence the work is a synthesis of concepts relating to wildlife conservation and visually interpreting natural animal forms.
 
The twenty-first century is gripped by the predicament of habitat loss and species decline.  There is an urgent desire in me to say new things about this disappearing world and to contribute to the efforts to help wild animals and wild places endure.
 
I am delighted to be a part of the Open Studios at the Museum of Arts and Design.  I am using this opportunity to launch my Tiger Pelt Project.  A knitted textile interpretation of tiger pelts based on the collection at the American Museum of Natural History and actual data of wild tigers being studied in the wild by scientists.  Through studying actual pelts that were collected from 1944 onwards to live wild tigers captured by photographs, I hope to trace the history and stories behind these amazing tigers that are facing the threat of extinction today." 
Ruth Marshall was born and raised in Melbourne, Australia. She studied for a BA in sculpture and printmaking at Phillip Institute of Technology, where diversity and independence of study was encouraged. Two years after completion Marshall was awarded the Anne & Gordon Samstag International Visual Arts Scholarship, a generous sponsor in promoting overseas education of Australian visual art students. In 1993, Marshall began a Masters degree in sculpture at Pratt Institute in Brooklyn. Upon graduation, she joined the exhibit, graphic & design team at the Wildlife Conservation Society, more commonly known as the Bronx Zoo.
For over a dozen years, Ruth Marshall worked as an exhibit sculptor at the Bronx Zoo.  This experience shaped the direction of her artwork, provided the opportunity to study a world class animal collection and to learn about conservation strategies related to endangered species. 
In 2002 Marshall was the first artist invited to be represented by Dam, Stuhltrager Gallery.  Since 2005 she has taught fine art drawing in the Film & Animation Department at the School of Visual Arts, New York City. 
Her work has been shown throughout North America and Europe.
For more information please visit: www.ruthmarshall.com