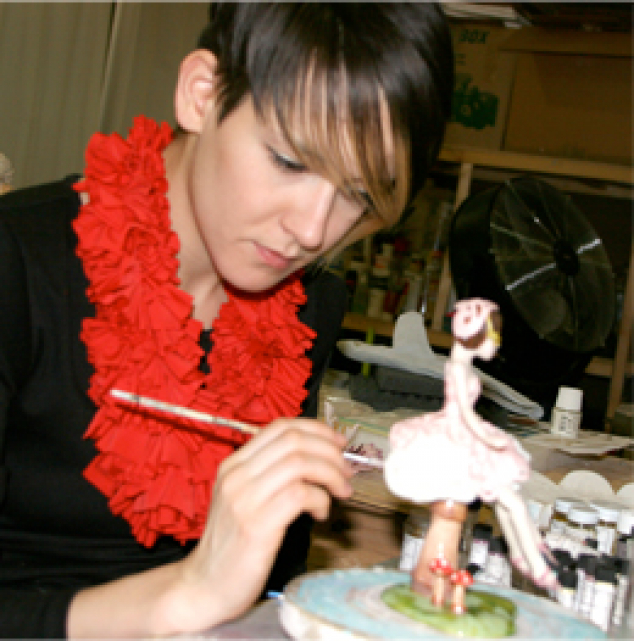 Jessica Stoller
Artist Jessica Stoller
click image to enlarge
Untitled

Untitled, 2009. Porcelain, china paint, luster, latex paint

click image to enlarge

Untitled

Untitled, 2009. Porcelain, china paint, luster

click image to enlarge
Throughout my childhood my mother and grandmother collected figurative antiques while I collected molded plastic of all shapes and sizes. I am interested in these inanimate objects whether antique or mass-produced, as they often reflect societal expectations and gendered values.
Currently I employ the lost technique of lace draping in my work. Developed in the 18th century by German artisans who converted real lace into porcelain. The porcelain lace was laboriously applied to delicate full-skirted figurines including various ballerinas and Rococo aristocrats. I use this historic process to create intricate figurative ceramic sculptures that challenge and explore notions of idealized femininity. I cast, sculpt and create wayward and transgressive female figures. Incorporating period fashion, powerful historic women, and imaginative scenarios my works deals with notions of costume, sexuality and the subjugation of the female body. The notion of the decorative as weak and inherently female is subverted as the figures depicted are purposely innocent and sexual, self sacrificing and violet, powerful and unaware of the power they posses.
Jessica Stoller studied ceramics at Cranbrook Art Academy and holds her MFA in Fine Art. She also has her BFA from College for Creative Studies. Jessica has exhibited her work in numerous shows throughout the US and in Berlin, Germany. Her work has been shown at Cranbrook Art Museum, The Clay Studio, Like the Spice Gallery, Brooklyn Artist Gym, Paul Kotula Projects and Center Galleries in Detroit, MI. Her work is also published in 500 Cups, by Suzanne J. E. Tourtillot. She was awarded the Daimler Chrysler Emerging Artist Nominee and has also lectured and served as a guest critic at numerous colleges, specially California State Long Beach and Portland State University. She currently lives and works in New York.
For more information please visit: jessicamstoller.com