Talks | Open Studio Visits: LJ Roberts and Sarah Zapata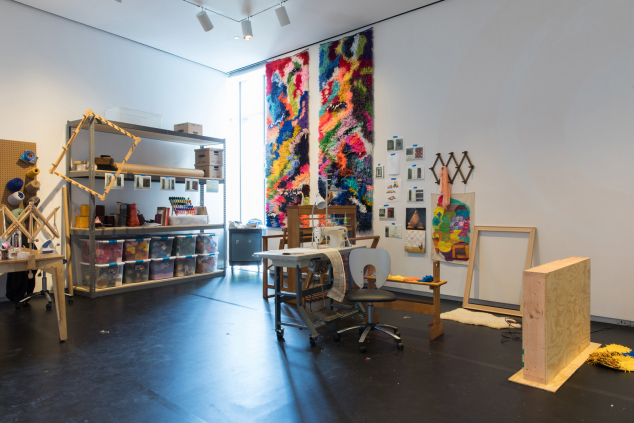 Installation view of Studio Views: Craft in the Expanded Field
click image to enlarge
Installation view of Studio Views: Craft in the Expanded Field

click image to enlarge

Installation view of Studio Views: Craft in the Expanded Field

click image to enlarge

Installation view of Studio Views: Craft in the Expanded Field

click image to enlarge
Program Description
Working on site to complete large-scale new artworks and installations, Roberts and Zapata have each invited two guests to the Museum to discuss their works in progress. These trusted advisors will lead hour-long public discussions with the artists about the conceptual and historical underpinnings of their respective artworks, while also exploring the works' formal, technical, and material dimensions.
Beginning in the studio of LJ Roberts at 6:00 pm and returning after a short intermission to the studio of Sarah Zapata at 7:30 pm, visitors are invited to observe the conversations and participate in a short Q&A at the conclusion of each studio visit.
About the Artists
LJ Roberts approaches working in textiles with political urgency. They are interested in materialities that mark political histories and enable future speculations. The promises and problematics of queer and alternative kinship structures, nomadism, landlessness, and concepts of time inform their current explorations. Roberts' work has been shown at venues including the Victoria and Albert Museum, the Brooklyn Museum, the Orange County Museum of Art, the Leslie-Lohman Museum of Gay and Lesbian Art, the Powerhouse Museum, the Oakland Museum of California, the DePaul Art Museum, and the Smithsonian American Art Museum, where their work is in the permanent collection. Roberts is a past recipient of the White House Champions of Change Award for LGBTQ artists, a MacDowell Colony fellowship, the Fountainhead Fellowship, and residencies at Ox-Bow School of Art, ACRE, and the Bag Factory in Johannesburg, South Africa. Roberts was an artist-in-residence at the Museum of Arts and Design in 2009.
Sarah Zapata uses materials that are common: yarn, ubiquitous objects, fabrics, paper, the kitchen sink. As a woman employing traditional craft techniques, Zapata appropriates value within processes and materials. By making work with meditative, mechanical means, Zapata produces pieces that are time-consuming and labor-intensive, dealing with imagery of the feminine, the fetishized, the handmade. Zapata's work has been exhibited at El Museo del Barrio, the New Museum, LA><ART, Deli Gallery, Chamber, and Hudson Valley LGBTQ Community Center. Zapata has also completed residencies at MASS MoCA, A-Z West, and Wave Hill, and is the recent recipient of an NFA Project Grant from the National Association of Latino Arts and Cultures and an Emergency Grant from the Foundation for Contemporary Arts. Zapata was an artist-in-residence at the Museum of Arts and Design in 2016.