Cinema | J. Fred Woell: An American Vision
Screening to be followed by a Q&A featuring the filmmaker, Richard Kane, with Glenn Adamson, Helen Drutt, and Paul J. Smith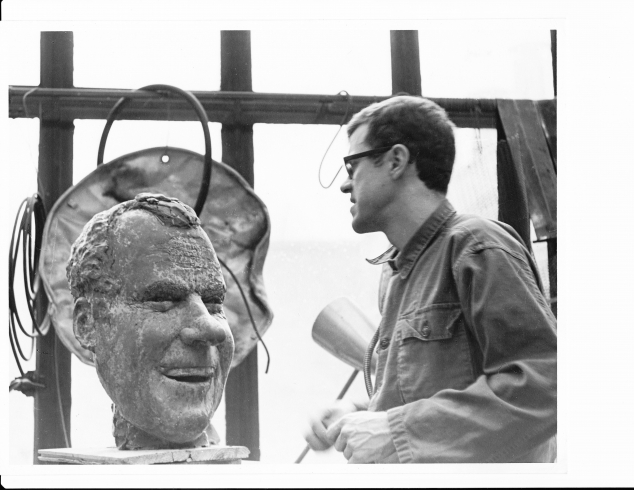 J. Fred Woell and "Noxin"
click image to enlarge
J. Fred Woell

click image to enlarge

J. Fred Woell

click image to enlarge

J. Fred Woell in his studio

click image to enlarge
Program Details
Thursday, March 29, 2018 - 6:30 pm to 8:00 pm
$15 general / $10 members and students
The Theater at MAD
Program Description
J. Fred Woell: An American Vision
Dir. Richard Kane, USA, 2017
50 min, Digital Projection
A new documentary film directed by Richard Kane, J. Fred Woell: An American Vision celebrates the pioneering metal artist who created work with wit, satire, and meaning. This screening, which marks the film's New York premiere, will be followed by a Q&A with the filmmaker and special guests Glenn Adamson, Helen Drutt, and Paul J. Smith, moderated by MAD's Assistant Curator Barbara Paris Gifford.
In 1965, J. Fred Woell took his cast silver jewelry to New York City galleries and was turned down flat. "Use gold or forget it," they said. A confirmed contrarian, Woell vowed to make jewelry from material of no value, inspiring the term "anti-jewelry." Nearly fifty years later, he was honored with the Lifetime Achievement Award from the Society of North American Goldsmiths.
J. Fred Woell: An American Vision chronicles Woell's life and artwork, which is now housed in permanent collections across the country and internationally, including at the Museum of Arts and Design. Woell has inspired generations of students through positions at Boston University, the Swain School of Design, Haystack Mountain School of Crafts, and SUNY New Paltz, as well as through his many workshops and mentorships.
About the Filmmaker
Richard Kane is an independent director whose work is focused on the intersection of art and contemporary American life. Previous film releases include I Know a Man... Ashley Bryan and Imber's Left Hand, both part of the Maine Masters collection, a New England Emmy–nominated series of portraits that airs on public television. Kane-Lewis Productions, his company with partner Melody Lewis-Kane, has worked for National Geographic, the Discovery Channel, the John F. Kennedy Center for the Performing Arts, and the White House Office of Science and Technology Policy, among many other organizations. The company produced the Natural Resources Council of Maine's fiftieth-anniversary film Protecting the Nature of Maine, the indie doc Rock Solid: The Schoodic International Sculpture Symposium, and the award-winning documentary M.C. Richards: The Fire Within. From 2007 to 2016, Kane served as Chair of the Maine Film Association.
Panelists
Glenn Adamson is a curator, writer, and historian who works at the intersection of craft and contemporary art. Currently Senior Scholar at the Yale Center for British Art, he was previously Director of the Museum of Arts and Design; Head of Research at the Victoria and Albert Museum; and Curator at the Chipstone Foundation, Milwaukee. His new book, Fewer, Better Things: The Hidden Wisdom of Objects, will be published by Bloomsbury in August 2018.
Helen Drutt, a pioneering art jewelry collector, curator, and gallery owner, gathered together seventy-four works of contemporary craft, including works by J. Fred Woell, and arranged for them to be exhibited as part of the State Hermitage Museum's 250th birthday celebration in Saint Petersburg, Russia.
Paul J. Smith is Director Emeritus of the Museum of Arts and Design. He was instrumental in presenting dynamic and often participatory exhibitions that reflected the social currents of the era, including such exhibits as The Art of Personal Adornment, which included Woell. Smith was also instrumental in curating the groundbreaking exhibit Objects: USA, organized by Lee Nordness, also including Woell.