Calendar / Upcoming Programs: Workshops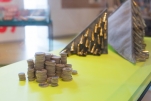 Saturday, November 4, 2017 - 1:00 pm
Join artist Maria Hupfield as she teaches visitors how to design and hand-stitch personalized medallions using industrial felt worn on the body. Participants with cut, sew, and embellish circular pieces of felt that will then be embellished with beaded trim and small metal tin cones made into various hand-cut geometric designs.
Saturday, November 11, 2017 - 1:00 pm
Join Xenobia Bailey as she guides participants through the creation of soft sculpture furniture prototypes. These sculptures will be miniature, as if designed for a dollhouse, and inspired by 1960s and 1970s African-American homemaker aesthetics.
Exhibitions on view today