Calendar / Upcoming Programs: Cinema
Thursday, March 29, 2018 -

6:30 pm

to

8:00 pm
Q&A with Glenn Adamson, Helen Drutt, and Paul J. Smith. Moderated by MAD's Assistant Curator Barbara Paris Gifford.
A new documentary film directed by Richard Kane, J. Fred Woell: An American Vision celebrates the pioneering metal artist who created work with wit, satire, and meaning.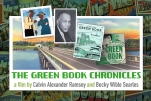 Collage by Becky Wible Searles, including animation still by Ammar Nassri and Zhou Quan 

Green Book covers courtesy of New York Public Library

Image Courtesy Becky Wible Searles
Thursday, April 5, 2018 -

6:30 pm

to

8:00 pm
A live-action documentary with animation, The Green Book Chronicles explores the history of Victor Hugo Green's legendary travel guide, The Negro Motorist Green Book.
Exhibitions on view today