Museum Hours Today
10 am to 6 pm
Docent Tours
There are docent tours at 11:30 am and 3 pm. Docent tours are free with admission and meet in the lobby.
Artist Studios
The
Artist Studios
are open today from 10 am to 1:30 pm and 2:30 pm to 5 pm.
Esperanza Cortés' work encourages viewers to reconsider social and historical narratives dealing with colonialism, and raises critical questions about the politics of erasure and exclusion.
Her artwork examines the extent to which a consciousness, national or personal...
Exhibitions on view today
Propagation (Opus 3), 2015

Wood, speakers, amplifiers, mixers, wires, cables, piano strings, bone, cable holders, contact microphones, brass, sheet rock. 6.5 meters high x 6.8 meters wide.

MARTE- Contemporary, El Salvador

Photo by Rodrigo Dada

Courtesy of artist
Thursday, September 14, 2017

to

Sunday, February 25, 2018
Landing (Mist Parts Over Columbus Circle), 2017

Medical records, credit card offers, tiki decorations, nature calendars, plastic tablecloths, plastic bags, Dora the Explorer puzzle pieces, photo, maps and oil on chicken wire and wood 

48 x 66 x 4 inches

 
Thursday, January 18, 2018

to

Sunday, April 8, 2018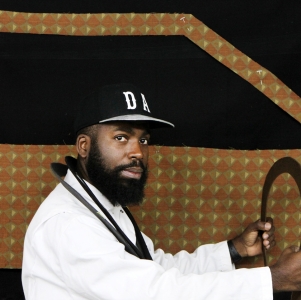 Thursday, January 25, 2018

to

Sunday, August 12, 2018