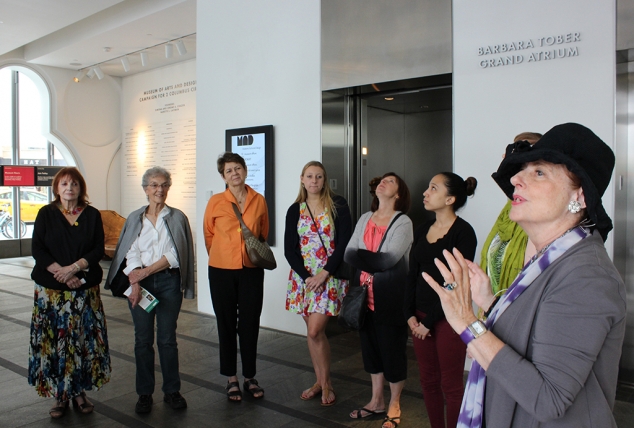 Docents are highly dedicated volunteers who act as frontline educators and interpreters of MAD's mission and exhibitions. Docents use inquiry-based and dialogue-driven engagement strategies to explain curatorial ideas and help build deeper, more meaningful connections with the public.
All docent candidates participate in a five-month training program. This training program includes eight sessions held at the Museum and individualized training with a docent mentor. Successful completion of a certification tour, which is conducted by the Docent Program Manager, is required for participation in the MAD Docent Program.
Required Duties
Complete docent training, including the successful completion of a certification tour.
Conduct a minimum of 28 tours per year or roughly two per month.
Attend monthly Docent Corps meetings, which generally are held the first Monday of each month from 12:30 to 3 pm.
Attend curator-led tours and study groups during exhibition changeovers. These are held on weekdays during regular Museum hours (10 am to 6 pm). A flexible weekday schedule, therefore, is necessary for successful participation.
Assist with research preparation and group training when needed
We are not currently accepting applications to the Docent Program. If you are interested in becoming a docent in the future, please email docent.corps@madmuseum.org to be added to our outreach list.