RE:FINE Holiday 2017
Redefining Fine Jewelry
A Refreshing Alternative to the Conventional Heirloom
The Store at MAD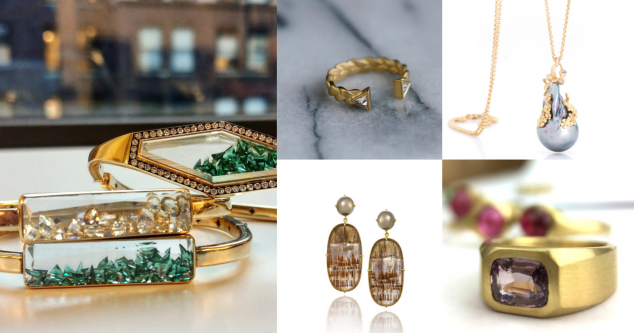 Opening:  Thursday, November 16 from 5:30 to 8:30 pm. Guests will enjoy 20% savings all evening.
The Store at MAD is pleased to premiere RE:FINE Holiday 2017, previously known as Redefining Fine Jewelry. RE:FINE marks The Store's third seasonal foray into fine jewelry for sale.
The collection will launch with an opening cocktail party on Thursday, November 16, from 5:30 to 8:30 pm and a press preview at 3:30 pm. Bringing together a highly curated group of thirty-two international artists and designers, including eight jewelers selected for their alternative bridal collections, RE:FINE spotlights forward-thinking jewelry artists, each with a consummate craft and singular creative vision, who have applied innovative technique to the highest-quality precious metals and nontraditional gemstones to create timeless and inspired pieces. Many of the artists will be present for the opening-night event.
This season's collection features, for the first time, Alberian & Aulde, Baltera, Chasseur Fine Jewelry, Mimi Favre, GiGi Ferranti, Foundrae, Moritz Glik, Margery Hirschey, Karen Karch, Julie Lamb, Loriann Jewelry, Marie Mas, Erica Molinari, Nancy Newberg, Eden Presley, Ruta Reifen, Megan Thorne, Ruth Tomlinson, and Lene Vibes.
Returning are Agas & Tamar, Stephanie Albertson, Lika Behar, Denise Betesh, Hannah Blount, Stella Flame, Elizabeth Garvin, Serhat Geridonmez, Joan Hornig, Tony Malmed, Marian Maurer, Todd Pownell, and .925Suneera.
Host Committee:
Michele Cohen
Mike De Paola
Marcia Docter
Joan Hornig
Anne Kaplan
Barbara Tober
For questions regarding this event please call Joanna Bak at 212.299.7785 or email Joanna.Bak@madmuseum.org.

Wednesday, February 20, 2019

to

Monday, February 25, 2019
Explore Mexico City's flourishing arts and design scene on MAD's next members trip! Visit the studios of cutting-edge artists, galleries, private collections, renowned museums including the world-famous Palacio de Bellas Artes, Soumaya and MUNAL Museums.

Curator's Circle and above are invited to an exclusive studio visit with renowned fashion designer, Anna Sui. In advance of her retrospective, The World of Anna Sui (opening this fall at MAD), Sui will walk members through the inspiration and creation of her designs that mix romantic nostalgia and rock-and-roll glam.
Don't miss the members-only celebration of the highly anticipated exhibition, Too Fast to Live, Too Young to Die: Punk Graphics, 1976-1986, opening at MAD on April 9. The evening will include an intimate conversation with John Lydon aka Johnny Rotten and Gillian McCain, co-author of Please Kill Me: The Uncensored Oral History of Punk.