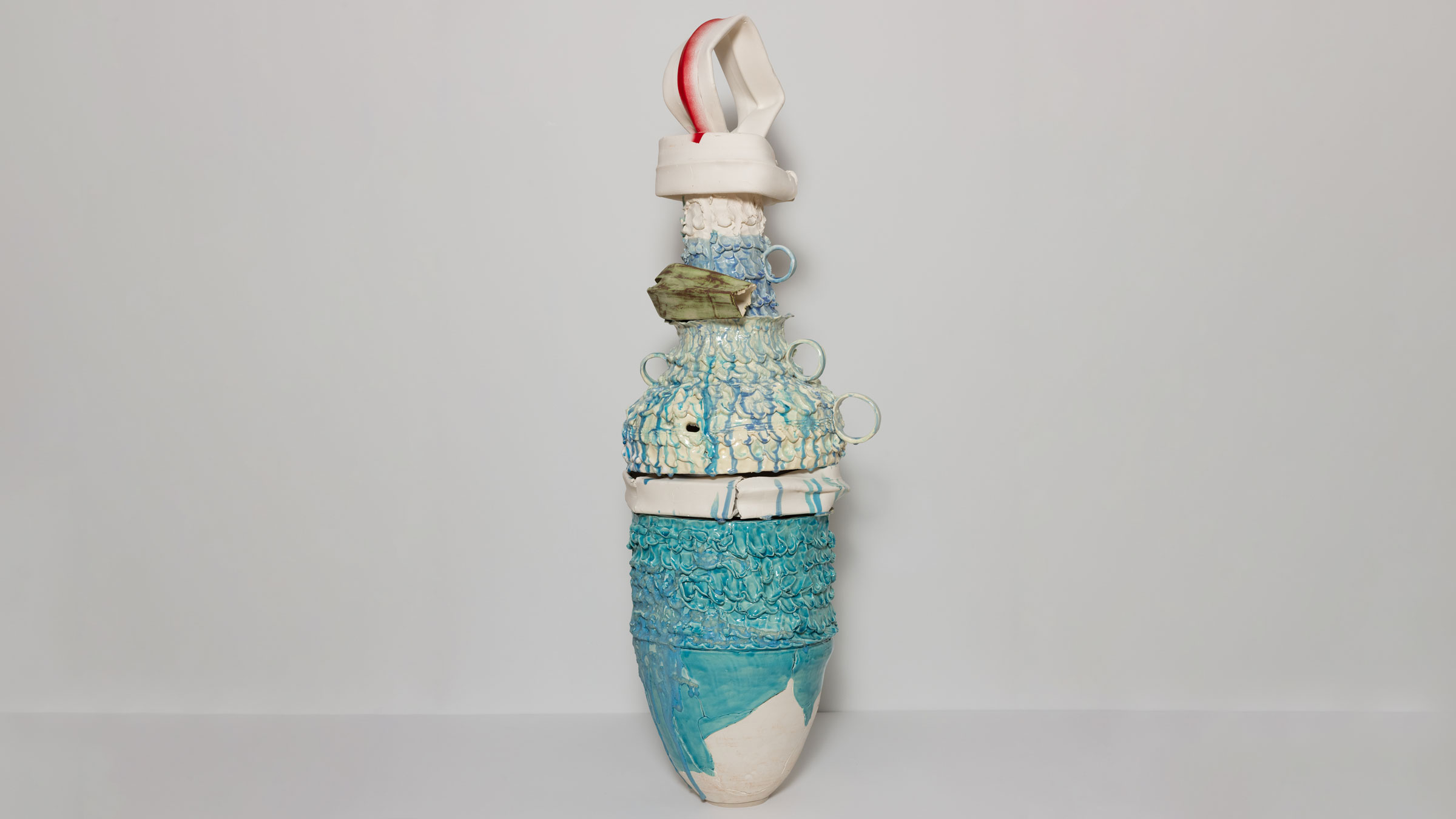 What does "sloppy" mean when applied to crafted objects? How might a sloppy aesthetic be an exercise of power or feeling on behalf of the maker? This course will define and investigate examples of sloppy craft, using its aesthetics of casual or amateur-making to delve into how we distinguish high and low forms of art and craft. We will then immerse ourselves in contemporary examples of Maximalism and discuss how artists today choose to assert themselves by working with—and flexing—an aesthetic of excess.
Online lectures with discussion take place May 16 and 17 at 7 pm on Zoom. On May 20, the class will visit Frieze New York at The Shed. Together we will survey the fair for examples of sloppy craft and maximalism.
"Sloppy Craft" is the third course module for What is Craft History?, a dynamic educational experience combining online learning and special access to museums, galleries, and art fairs. Taught by craft historian Rachael Schwabe, What is Craft History? explores key questions regarding the multiple meanings and objects that constitute craft—from its intersection with twentieth-century modernism up to its rebellious present-day practices. Develop a deeper understanding of the meaning of craft in today's world and discover artists who are expanding the field's reach and influence.
Module l: Crafting Modernism
Module ll: Craft as a Subversive Act
No prior knowledge of craft history is required, and each module is designed as a standalone curriculum. Join us for any or all modules.
Members enjoy a 20% discount. Become a Member and save!
CLASS SCHEDULE
5/16, 7-8:30 pm (on Zoom)
Examining High/Low Art and Craft
The textile artist Anne Wilson first used the term "sloppy craft" in 2007 to describe the intentionally rough and messy aesthetic of Josh Faught's weaving. Rather than a criticism of the artist's work, Wilson opened larger conversations about craft's association with skill and perfection.
Artists highlighted: Ed Rossbach, Sterling Ruby, Josh Faught, Didi Rojas, Mike Kelley, L.J. Roberts
5/17, 7-8:30 pm
Maximalism
This class will focus on contemporary artists who make use of diverse materials to craft dazzling and immersive art experiences. We will explore where the power lies in their respective objects and how their materials and execution bring their objects to life.
Artists highlighted: Beatrice Wood, Machine Dazzle, Raúl de Nieves, Jeffery Gibson, Tracey Emin, Mari Katayama, Liz Collins
5/20, 1:30-3:00 pm, Tour
Frieze New York
Together we will survey the fair for examples of sloppy craft and maximalism.
Image: Nicole Cherubini, Earth Pot #3: The Fancy One, 2013; earthenware, terracotta, glaze, and spray paint; Museum of Arts and Design, New York; purchase with funds provided by the Collections Committee, 2013
Please review our health and safety protocols before you arrive. MAD strongly recommends all visitors six months and older are vaccinated against Covid-19 and visitors ages two and up wear face coverings, even if vaccinated. Thank you for your cooperation.
$275 general
$220 members
(includes entry ticket to Frieze New York)
Contact