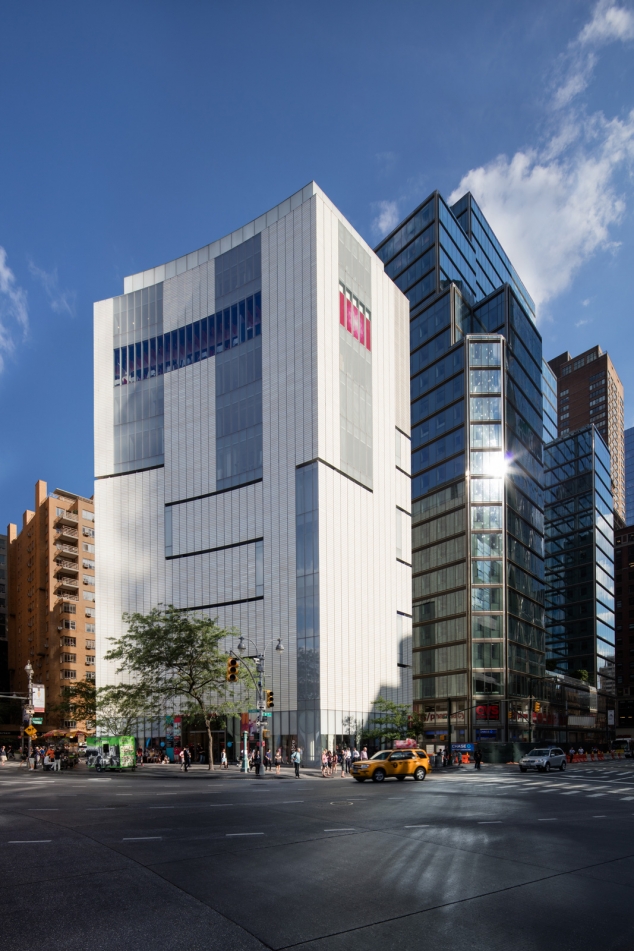 The Museum of Arts and Design at Columbus Circle
click image to enlarge
Chief External Affairs Officer
The Museum of Arts and Design seeks a Chief External Affairs Officer, a key member of the senior leadership team who will help lead the Museum into its next phase of growth and success. Reporting to the Director, the position oversees marketing and communications, media and public relations, digital and social, branding and design, and visitor experience for the Museum. S/he will also collaborate closely with executive leadership and the Chief Development Officer to strategize new sources of revenue for MAD.
See More...
In partnership with the Museum Director, the Chief External Affairs Officer will:
Establish the overall strategy and direction for all external communications, audience outreach, and strategic partnerships for the Museum.
Analyze demographic data and constituent profiles to identify target audiences.
Oversee departmental budgets, and develop and implement annual or multiyear marketing and communications plans.
Collaborate with all departments to optimize strategic communication with diverse audiences and constituents.
Establish and implement goals for advertising and digital marketing campaigns, web presence, social media, and digital communications; maintain dashboard that outlines key metrics associated with online traffic, newsletter readership, social media campaigns, and other key initiatives.
Set key messaging, positioning, and visual branding for the institution in order to ensure consistency, efficiency, and creative quality across platforms. Manage design, content, and production of all institutional marketing materials.
Research and maintain record of trends, innovations, and changes that affect media planning and other MAD-related opportunities.
Oversee all PR efforts for exhibitions, education and public programs, development and collection initiatives, The Store at MAD, special events, and partnerships.
Set strategy and manage relationships with external partner agencies.
Oversee all public affairs initiatives and organizational partnerships; identify and develop media and other key partnerships.
Partner with the Chief Development Officer to develop fundraising goals, maximize and diversify revenue-raising strategies, and communicate MAD's funding objectives to both internal and external constituencies.
Working closely with the Chief Development Officer, lead all institutional campaigns to increase visibility, revenue, fundraising, and attendance; and support all special events, corporate sponsorships, and membership outreach efforts.
Oversee the Visitor Services department and strengthen the Museum's engagement with its audiences, aligning outreach efforts with the visitor experience.
Manage rollout of all institutional news and appointments; handle all crisis communications and reputation management; seek thought-leadership and profile-building opportunities for executive staff and board.
Serve as lead spokesperson and represent MAD at key art, design, museum, and culture industry events, communications and marketing professional organizations, and conferences.
The successful candidate will play a critical role within the institution's leadership team. Applicants should have at minimum an undergraduate degree and 10 to 15 years of relevant experience, with a minimum of 5 years in a managerial role, or an equivalent combination of education and work experience. The ideal candidate is a strategic, collaborative, and results-driven executive with an arts and culture background, who will deploy tactical outreach and engagement of new audiences for increased visibility and revenue. The role demands an enthusiastic and creative thinker with an entrepreneurial mindset and a demonstrated ability to inspire and mentor teams, make connections for the Museum, and build consensus across internal and external constituents.
Application: 
Please email your resume and cover letter, including desired salary, to HR@madmuseum.org with the exact subject line "Chief External Affairs Officer Application." Applications without cover letters and/or desired salary will not be considered. Please indicate available start date in cover letter. Only eligible candidates will be contacted for an interview. No phone calls, please.
The Museum of Arts and Design is an equal opportunity employer and does not discriminate in the hiring of personnel on the basis of race, creed, color, religion, national or ethnic origin, gender, age, Vietnam-era veteran or disabled veteran status, sexual orientation, marital status, disability, or any other protected status as provided by law. Visit madmuseum.org for more information about the Museum of Arts and Design.
Chief Development Officer
The Chief Development Officer will have the honor and responsibility of building a partnership with the new Director, Christopher Scoates. S/He will also oversee a team of professionals responsible for maintaining and growing the museum's base of individual and institutional support. These areas include major gifts, planned giving, grants, corporate and foundation relations, annual giving and membership. The successful candidate is an accomplished senior development professional with 10+ years of fundraising experience, gravitas, a proven track record in building sustainable high-performing development programs and a demonstrated history of developing successful relationships with high net-worth individuals and institutional leadership.
For a full position description and to apply or nominate qualified candidates, contact Libby Roberts, Vice President, LOIS L. LINDAUER SEARCHES (LLLS):
Safety and Security Manager
Reporting to the Director of Facilities, the Safety and Security Manager will lead the security program. The role requires coordination of the Security Team that includes internal and contracted staffing to ensure that all the daily security operations run smoothly and effectively. In addition to managerial supervision, the Safety and Security Manager also carries out patrol and other security duties as necessary.
See More...
Responsibilities include but are not limited to:
Security
Supervise and coordinate guard coverage with contracted service agency
Create daily and weekly time schedules for contract guards, ensuring proper coverage for a 24/7 operation that encompasses public hours, overnight and additional coverage for Special Events and Programs
Work with museum departments to review security needs and protocols for organizing events and exhibition programs, translating needs to create Post Orders and train Guards appropriately
Facilitate the daily work schedule, including the officers' rotations and breaks
Perform routine tours of the galleries, common areas, mechanical room, building perimeter, administrative floors, and retail store
Perform daily uniform inspections
Orient/train new guards on security risks and protection at the museum, certifying they are versed in the Emergency/Disaster Preparedness Plan and performing refresher training periodically
Manage the Security Technology program at the Museum, which includes programing of building alarm systems, sign in/out procedures, closed-circuit surveillance systems and card access control
Administer system for controlling access to staff, contractors, and visitors through Card Access Control and physical keys; maintaining tight control over physical keys and distribution of electronic privileges 
Respond to all security issues and follow-through with reporting, performing investigations, and drafting reports
Act as a relief guard when necessary
Responsible for Opening/Closing the Building as necessary by schedule
Life Safety
Act as the Evacuation Leader as needed, continually updating Emergency Preparedness Plan in coordination with all organization stakeholders, performing drills as prudent and/or regulated. Requires Certificate of Fitness as a Fire and Emergency Drill Conductor (F-07)
Must retain and keep active Certificate Of Fitness For Supervision Of Fire Alarm Systems And Other Related Systems (S-95)
Train other staff as necessary to be a Building Evacuation Supervisor (BES) and as a back up to his/her daily responsibilities when not on site
Ensure guards or other back-up personnel have F03 certifications as necessary and are trained to evacuate the building
Perform daily tours all areas of the building and perimeter
Point person for Fire Department, Police and first responders during his/her shift.
Other
Coordinate event set-up/breakdown with assistance of other operations staff
Cross-train with other department responsibilities as necessary
Assist Facilities Department as required
Must be well versed in the current exhibitions in order to answer basic questions from our patrons
Qualifications
Education: Bachelor's Degree from a 4 year college or university or a current certification from the American Society for Industrial Security as a Certified Protection Professional.
Work Experience: 5+ years' experience supervising a security team; or equivalent combination of education and experience. 
Must maintain the following FDNY Certificate of Fitness:
S95 Supervision of Fire Alarm Systems and Other Related Systems
F07 Fire and Emergency Drill Conductor
F03 Indoor Place of Assembly Safety Personnel
Excellent communication skills required Professional, friendly demeanor and interest in building relationships with staff
To Apply: Please submit your resume and cover letter, including salary requirements to hr@madmuseum.org. No phone calls or walk-ins, please. No relocation expenses offered.
The Store at MAD - Part-time Sales Associate
The Store at MAD is presently seeking an enthusiastic, dynamic, responsible and experienced individual to join its dedicated and close-knit sales team.  Be a part of this exciting and fast-paced retail environment that combines a passion for artist-made products with unparalleled excellence in the art of customer service.
See More...
This Part-time position (a maximum of 28 hours per week) includes greeting and assisting customers in a friendly and professional manner; performing careful sales transactions on the POS system, assisting with re-stocking and maintaining a clean sales floor; and assisting the floor manager with all floor sales related initiatives. 
As part of our staff you will be the link between our customers, the museum and our curated presentation of well-made contemporary craft and design objects.
If you are a dedicated professional salesperson, who feels comfortable selling a wide range of price-points and merchandise, including glass, ceramics, jewelry, home and fashion accessories, you could be the ideal fit.
We ask that you are able to:
Work in an active retail location.
Prioritize tasks with an attention to detail while ensuring a customer-first focus.
Be able to service multiple customers at one time with courtesy and sincerity.
Cultivate relationships with repeat customers in order to serve them better.
Provide excellent customer service to ensure that a positive store experience inspires museum and store visitors to make a purchase to memorialize their museum visit.
Preserve a positive work-atmosphere by communicating with coworkers cordially and effectively.
Bring us your positive energy and your track record of superior sales skills and we'll find you the perfect position.
Qualifications:
Prior Retail experience is required, as well as, prior experience working with computers. Excellent communication, interpersonal, and customer service skills required.

 

Must be able to work some weekend days and evening hours, as needed.
Please email resume to jules.jones@madmuseum.org.
The Store at MAD is an integral part of the museum, designed to enhance and complete the museum visitor's experience.  All income earned by The Store at MAD is used to support the exhibitions and education programs of the Museum of Arts and Design.
Opportunities for Artists
Artist Studios Residency and Van Lier Fellowship
The Artist Studios Program hosts residents and fellows daily in a live studio environment.  Residents and fellows are selected for four-month sessions (February – May, June – September, and October – January).  Each resident is assigned one day each week to work, along with a selection of Thursday and Friday evenings, while fellows work 40 hours per week (schedule varies).  Both residents and fellows have access to a variety of tools and materials, as well as professional development opportunities.
Successful applicants have a mature body of work and clearly understand the public-facing dimension of the program. To learn more about this opportunity click here.