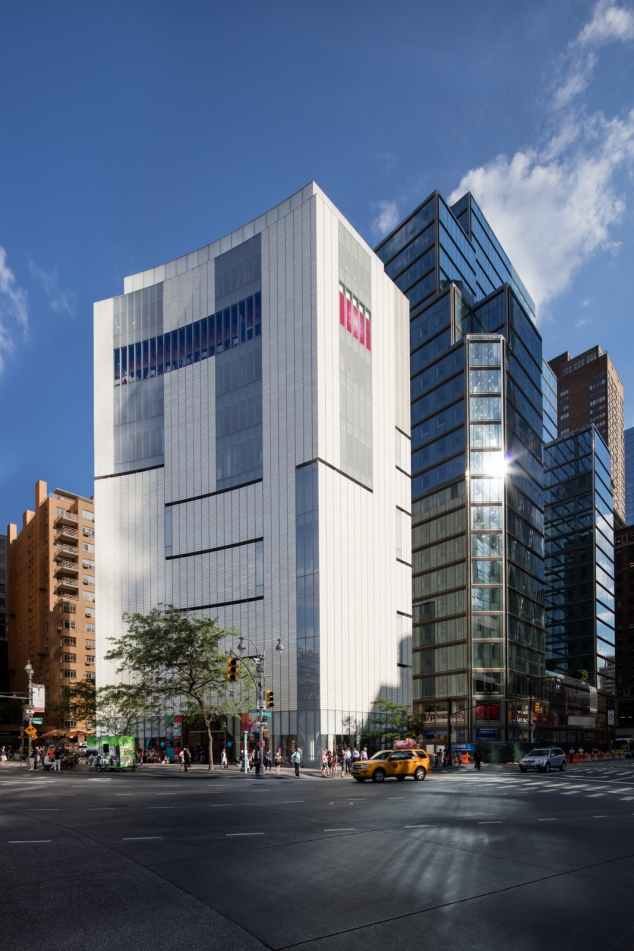 The Museum of Arts and Design at Columbus Circle
click image to enlarge
Manager of Public Programs
The Manager of Public Programs is a full time position within the Education Department reporting to the V.P. of Education and Programs. The Manager of Public Programs is responsible for the research, development, planning and coordination of public engagement programs for existing audiences, while increasing engagement opportunities for new audiences. The Manager of Public Programs is responsible for the development of innovative programs that supports the Museum's exhibitions and mission to fully integrate educational and public programs into the exhibition offerings. Program offerings at MAD include talks and symposia, performances, cinema, and hands-on workshops. The successful candidate will work across departments to develop programs supporting temporary exhibitions, the permanent collection, the Artist Studios program and Project Space. The Manager of Public Programs will develop outreach strategies to connect MAD's vision as an accessible and inclusive environment for people of diverse backgrounds, ages and abilities to engage in experiences and conversations on art, craft and design. 
See More...
The Manager of Public Programs will oversee the application and selection process for the Museum's Artist Studios Program (occurring twice a year), as well as organize small exhibitions or installations in the sixth-floor Education Center's Project Space.
This position reports to: V.P Education, but will work collaboratively across the education department and other departments throughout the museum in creating, planning, collaborating, evaluation and outreach.
Essential Responsibilities
Research and develop program models that forge closer connections to the

local community, increasing access to, awareness of, interest in, and appreciation for

contemporary art, craft and design; dialog with community organizations, potential partners
Must possess excellent writing, organizational and project management skills, to meet goals and deadlines, and manage multiple projects.
Develop and plan a robust and diverse roster of programs that engage members, the general public and new audiences
Research and develop relationships with potential presenters, performers, artists and designers to stay current on the latest trends in contemporary art and design practices
Develop and maintain a network of arts and community organizations and represent the Museum through open communication on the museum offerings
Develop strong, strategic relationships with community groups, and other cultural institutional groups, to extend Museum services to a wider community
Work collaboratively across departments, including exhibitions, development and communications to analyze target audiences, develop appropriate outreach strategies, and ensure effective promotion of programs using both print and electronic media
Contribute to the development and implementation of evaluative tools to measure, interpret, and analyze the outcomes of programming efforts relative to strategic goals; establish clear goals or outcomes for programing and events at the onset of the development in order to assess success
Prepare budgets and monitor associated expenses, including organizing and supervising registration and purchasing materials necessary for programs
Create text and program descriptions for the website and email blasts for outreach purposes
Attend and supervise programs, interfacing with the public, including weekends and evenings, as necessary

Business Outcomes
Superior evaluation from museum audiences during and after attending programs
Increase audiences attending programs
Increase outreach into communities underserved by the Museum
Ambassador for the museum and programs at cultural events
Align programs to the museum mission


Qualifications


B.A. or B.S. degree required (Masters a plus) in art, art or science education, museum education, or a related field, or equivalent experience
3-4 years of successful experience in the development and implementation of adult programming in a museum or similar arts education institution
Possess broad knowledge of culture, art, music, dance, performance, museums, and public dialogue
Experience working with diverse groups of adults and communities

Strong organizational and effective communication skills
This is a full-time position, with a schedule of Monday – Friday, 9:30 – 5:30pm, must be able to work some weekends as required by scheduling of public programs.
MAD is an equal opportunity employer and does not discriminate in the hiring of personnel on the basis of race, creed, color, religion, national or ethnic origin, gender, age, Vietnam-era veteran or disabled veteran status, sexual orientation, marital status, disability, or any other protected status as provided by law.
Application: Please submit an email with cover letter and resume to education@madmuseum.org with Manger of Public Programs in the subject line. Absolutely No phone calls please.
Associate Director of Individual Giving
The Museum of Arts and Design seeks an Associate Director of Individual Giving to expand the Museum's individual support base in terms of headcount (number of donors) and dollars contributed. The Associate Director of Individual Giving works strategically and collaboratively with Museum leadership, development colleagues, other staff, and volunteers to raise funds for programmatic, operational, endowment, and capital priorities. The position reports to the Development Director and works closely with the membership team, database personnel, and the Special Events department. The successful candidate will have the ability to articulate MAD's priorities and programs in ways that motivate individual donors and prospects to deepen their support of the Museum.
See More...
Responsibilities:
Identify, cultivate, and solicit a portfolio of 100+ individual prospects and current donors.
Drive cultivation and solicitation strategies to secure gifts in the $5,000–$100,000 range.
Direct the $5K, $10K, and $25K individual patron groups, which offer tiered benefits with annual commitments.
Collaborate with special events and membership staff to design a cultivation and rewards program for patrons; offerings may include artist studio visits, dialogues with collectors, and art centric-trips.
Lead the annual fund appeal in close discussion with membership team.
Pitch exhibition, education, operational, and capital needs to appropriate patrons.
Manage major donor prospect tracking and budgets.
Create inspiring donor messaging, from solicitations to acknowledgments.
Co-host cultivation events that create opportunities for prospects to connect with the Museum.
Help to organize and attend major donor trips as needed.
Create major donor funding appeals, from renewals to acquisitions.
Prepare gift acknowledgments in a timely manner.
Qualifications:
A minimum of 6 years of development experience
Bachelor's degree or equivalent experience
A passion for the arts and culture
Superb writing and speaking skills
Friendly and professional manner
Strong organizational skills
Attention to detail
Proficiency in Windows, Raiser's Edge, and Excel preferred
Application:

Send a cover letter and resume to resumes@madmuseum.org.  Please note "Associate Director of Individual Giving" in the subject line. No phone calls please.
MAD is an equal opportunity employer and does not discriminate in the hiring of personnel on the basis of race, creed, color, religion, national or ethnic origin, gender, age, Vietnam-era veteran or disabled veteran status, sexual orientation, marital status, disability, or any other protected status as provided by law. 
The Store at MAD - Part-time Sales Associate
The Store at MAD is presently seeking an enthusiastic, dynamic, responsible and experienced individual to join its dedicated and close-knit sales team.  Be a part of this exciting and fast-paced retail environment that combines a passion for artist-made products with unparalleled excellence in the art of customer service.
See More...
This Part-time position (a maximum of 28 hours per week) includes greeting and assisting customers in a friendly and professional manner; performing careful sales transactions on the POS system, assisting with re-stocking and maintaining a clean sales floor; and assisting the floor manager with all floor sales related initiatives. 
As part of our staff you will be the link between our customers, the museum and our curated presentation of well-made contemporary craft and design objects.
If you are a dedicated professional salesperson, who feels comfortable selling a wide range of price-points and merchandise, including glass, ceramics, jewelry, home and fashion accessories, you could be the ideal fit.
We ask that you are able to:
Work in an active retail location.
Prioritize tasks with an attention to detail while ensuring a customer-first focus.
Be able to service multiple customers at one time with courtesy and sincerity.
Cultivate relationships with repeat customers in order to serve them better.
Provide excellent customer service to ensure that a positive store experience inspires museum and store visitors to make a purchase to memorialize their museum visit.
Preserve a positive work-atmosphere by communicating with coworkers cordially and effectively.
Bring us your positive energy and your track record of superior sales skills and we'll find you the perfect position.
Qualifications:
Prior Retail experience is required, as well as, prior experience working with computers. Excellent communication, interpersonal, and customer service skills required.

 

Must be able to work some weekend days and evening hours, as needed.
Please email resume to jules.jones@madmuseum.org.
The Store at MAD is an integral part of the museum, designed to enhance and complete the museum visitor's experience.  All income earned by The Store at MAD is used to support the exhibitions and education programs of the Museum of Arts and Design.
Opportunities for Artists
Artist Studios Residency and Van Lier Fellowship
The Artist Studios Program hosts residents and fellows daily in a live studio environment.  Residents and fellows are selected for four-month sessions (February – May, June – September, and October – January).  Each resident is assigned one day each week to work, along with a selection of Thursday and Friday evenings, while fellows work 40 hours per week (schedule varies).  Both residents and fellows have access to a variety of tools and materials, as well as professional development opportunities.
Successful applicants have a mature body of work and clearly understand the public-facing dimension of the program. To learn more about this opportunity click here.