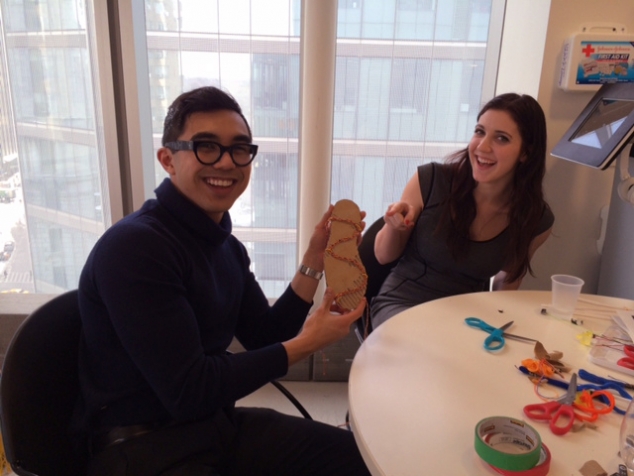 The Museum of Arts and Design has a long-standing history of supporting undergraduate and graduate internships that provide meaningful, engaging and project-based opportunities. Internship positions are available in several departments and allow participants to gain invaluable work experience at a non-profit visual arts organization as they prepare to continue their studies, pursue careers in the arts or apply their experience to other fields.
General Requirements

Applicant must attend an institution of learning with courses leading to a degree, certificate or diploma. Applicant is eligible during periods when school is not in session only under the following conditions: they were students the previous semester, they have not yet graduated or completed program requirements, or they have graduated, but are starting a new academic program within six months. Applicant must be a US citizen or completing residence requirements for a degree.
CURRENT PAID INTERNSHIP OPPORTUNITIES:
There are no paid internship opportunities at this time.
CURRENT UNPAID INTERNSHIP OPPORTUNITIES:
Development Intern – Fall 2017

The Museum of Arts and Design is seeking an undergraduate/graduate (preferred) student interested in working in a busy Development office. The intern will report to the Associate Director of Individual Giving and work closely with other members of the Development team.
See More…
This is an exciting opportunity to be an active and valued member of a non-profit development department and gain high-level experience in a variety of development areas including database management (Raisers Edge), event planning, membership and individual giving.
Ideal candidates:
Preferred candidate would be a graduate or undergraduate student in Museum Studies, Art History, Arts Administration, or related fields
Interest in fundraising, museums or arts non-profits
Have fine attention to detail and ability to multi-task
Previous office experience and  research skills
Knowledge of Microsoft Office Suite (Word, Excel, PowerPoint, and Outlook)
Possess excellent written and oral communication skills
Responsibilities Include:
Assist with individual prospect research  including compilation of  research  profiles
Update donor records in Raiser's Edge
Prepare prospect research profiles
Attend development events as a constituent-facing team member
Prepare and assemble mailings and invitations
Assist with event planning including tracking event RSVPs a
Commitment:

2- 3 days per week part time. Schedule can be flexible to accommodate class and/or work schedule.  Internships are unpaid.  Some evenings may be required with advance notice
To Apply:

Interested applicants should submit a resume and a cover letter to development@madmuseum.org. Cover letter should include why MAD interests you as well as what skills and experience you hope to gain from this internship. Please indicate your preferred start and end dates as well as hours you are able to commit to this internship. No phone calls please. Only qualified candidates will be contacted for an interview.
Development Intern for Institutional Giving - Fall 2017
The Development Intern for Institutional Giving will gain insight into the inner workings of a busy museum's development office. This internship is an ideal opportunity to learn more about the grantmaking process in New York's institutional landscape. The intern will also learn The Raiser's Edge, the top development database used among non-profit organizations, and will familiarize her or himself with electronic recordkeeping processes. The Intern will provide assistance in all aspects of Institutional Giving.
See More…
The candidate should be able to make a firm 16 hour a week commitment throughout the Fall. Possibility to continue through the Spring.
Essential Duties and Responsibilities:
Working with Manager of Institutional Giving to further develop Foundation, Corporate, and Government prospect and research strategies
Provide assistance with compiling content and materials for grant reports and proposals.
Drafting cover and acknowledgement letters
Conducting prospect research to support the Museum's exhibitions and education programming.
Maintaining and updating information in MAD's fundraising database, Raiser's Edge.
Administrative support, as needed, to the Manager of Institutional Giving and Development Manager, Exhibitions.
Other special projects as appropriate
Requirements:
Excellent writing and communication skills
An interest in museums
Able to multitask and work independently on projects
Attention to detail
Experience with Raiser's Edge or other donor database system is a plus
Familiarity with the histories of craft, design, and contemporary art is preferred
This is an unpaid position. To apply, please email a detailed cover letter and resume to Geneva.Morris@madmuseum.org.
Communications Internship
The Museum of the Arts and Design is seeking an undergraduate/graduate student interested in working in a busy Communications office. The intern will report to the Chief Communications Officer and the Communications Manager, and will work closely with a range of departments throughout the Museum. 
See More…
This is an opportunity to be an integral member of a non-profit Marketing/PR department, and gain experience in a variety of areas including public relations, digital and print marketing, advertising and social media.
Responsibilities
Promptly answer press requests regarding releases and images and field other inquiries to appropriate public affairs staff members.
Manage weekly outreach to listings editors to ensure Museum's exhibitions and programs inclusion. Update all relevant event calendars
Promote MAD's exhibition, educational and outreach programs via Social Media. Propose content. Photograph behind-the-scene museum moments.
Monitor, format and circulate all media clips. Maintain and organize press clip database Help with logistical organization of press previews and other media events.
Escort press on photo and film shoots approved by the Museum.
Assist at Special Events (escort press and/or event photographer, distribute press materials, greet and check in).
Maintain media contact database (Consolidate and update contact lists; Research specific media contacts and outlets for upcoming exhibitions and programs.)
Help prepare Museum monthly e-newsletter (draft copy, schedule e-blast with relevant updated content, update recipient database) and work on other Museum collaterals as needed (draft short articles for members' biannual newsletter, copy edit visitor materials etc.)
Update and maintain press website www.madmuseum.org/about/press (upload and format press releases; update image archive).
Qualifications
Excellent oral and written communication skills; Attention to detail and strong editing and grammar skills essential.
Strong organizational skills and prior office work experience.
A good understanding of Public Relations and interest in the Arts & Design field.
Proficiency in Microsoft Office Suite: Microsoft Outlook, Word, Excel are required.  Robust Excel skills in particular are a definite plus.
Fluency with Social Media (Twitter, Facebook, Tumblr, Hootsuite) required.
InDesign, Photoshop and html skills preferred.
Please email your resume and cover letter to press@madmuseum.org with "Communications Intern" in the subject line.