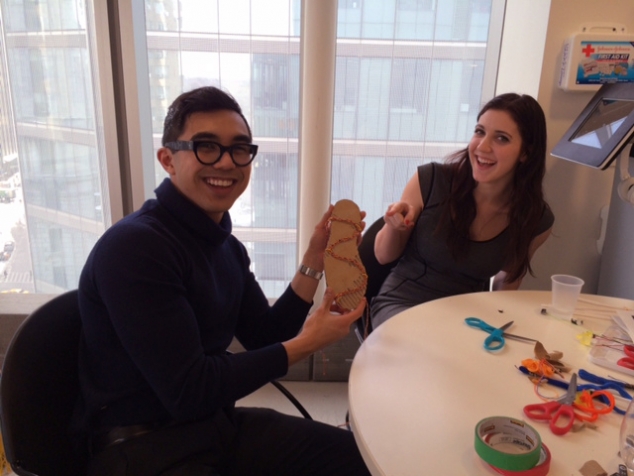 The Museum of Arts and Design has a long-standing history of supporting undergraduate and graduate internships that provide meaningful, engaging and project-based opportunities. Internship positions are available in several departments and allow participants to gain invaluable work experience at a non-profit visual arts organization as they prepare to continue their studies, pursue careers in the arts or apply their experience to other fields.
General Requirements

Applicant must attend an institution of learning with courses leading to a degree, certificate or diploma. Applicant is eligible during periods when school is not in session only under the following conditions: they were students the previous semester, they have not yet graduated or completed program requirements, or they have graduated, but are starting a new academic program within six months. Applicant must be a US citizen or completing residence requirements for a degree.
CURRENT UNPAID INTERNSHIP OPPORTUNITIES:
Engagement Intern

Education Department
The Museum of Arts and Design is seeking an undergraduate/graduate (preferred) student for its Engagement Internship opportunity in the Education Department. The intern will report to the Manager of Public and Community Programs and the Manager of Artist Studios and Docent Programs.
See More...
The Engagement Intern will collaborate on a variety of projects that focus on engaging communities and creating interesting experiences for visitors. The intern will participate in several trainings offered by the Education Department, and will have the opportunity to assist the department in creating "learning environments" throughout the Museum. This is an opportunity to gain real-life practice in a field of academic study and/or interest while developing both administrative and public engagement skills.
Applications for this opportunity are accepted on a rolling basis for three sessions: summer, fall, and spring/winter. Applications should be emailed to the Museum by May 15 for the summer cycle; by August 1 for the fall cycle; and by November 1 for the spring/winter cycle.
Responsibilities:
Assist with researching, implementing, and assessing public programs and Artist Studios programs
Conduct research related to artists or exhibitions as required for programming
Help prepare interpretive materials and resources for the public and docents to use on tours
Collect visitor feedback on programs and experiences in exhibitions
Participate in training to learn teaching and engagement strategies for use in gallery conversations
Assist with administrative responsibilities related to outreach and audience development
Assist with outreach and selection needs related to the Artist Studios Program
Qualifications:
Must be a graduate student or an undergraduate in final year of study, working toward a degree in Museum Education, Museum Studies, Museum Management, Art History, Art Education, or a related field
Interest in and experience working, interning, or volunteering in a museum educational environment preferred
Attention to detail and confidence in ability to collect and analyze data
Excellent communication skills, both written and oral
High degree of reliability and professionalism, with the ability to work on projects both individually and with a group
Ability to prioritize tasks, coupled with strong troubleshooting skills
Application:

Please send a cover letter, writing sample, and resume to carli.beseau@madmuseum.org with "Engagement Intern" in the subject line. Your cover letter should outline your specific interest in this internship, which cycle of the internship you are applying for, and specific skills and experiences that you believe make you a strong candidate for this opportunity. Your writing sample should be no longer than three pages, and should serve as a strong representation of your skills as a writer and researcher.