Calendar / Upcoming Programs: MADmakes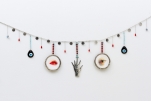 Thursday, April 12, 2018 - 6:00 pm
Join artist-in-residence Esperanza Cortés to create your own one-of-a-kind earring or pendant using glass beads, chain, thread, wax, feathers, leather, paper, plastic, small personal photographs, shaped wire, and a variety of mixed-media elements.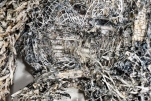 Thursday, May 10, 2018 - 6:00 pm
Dana Melamed is driven by curiosity, and her work process is intuitive, experimental, and constantly evolving with the addition of newly discovered materials and methods. For this iteration of MADmakes, Melamed will lead participants in exploring the different textures that can be created from everyday objects, culminating in the creation of mixed-media foil sculptures.
Exhibitions on view today