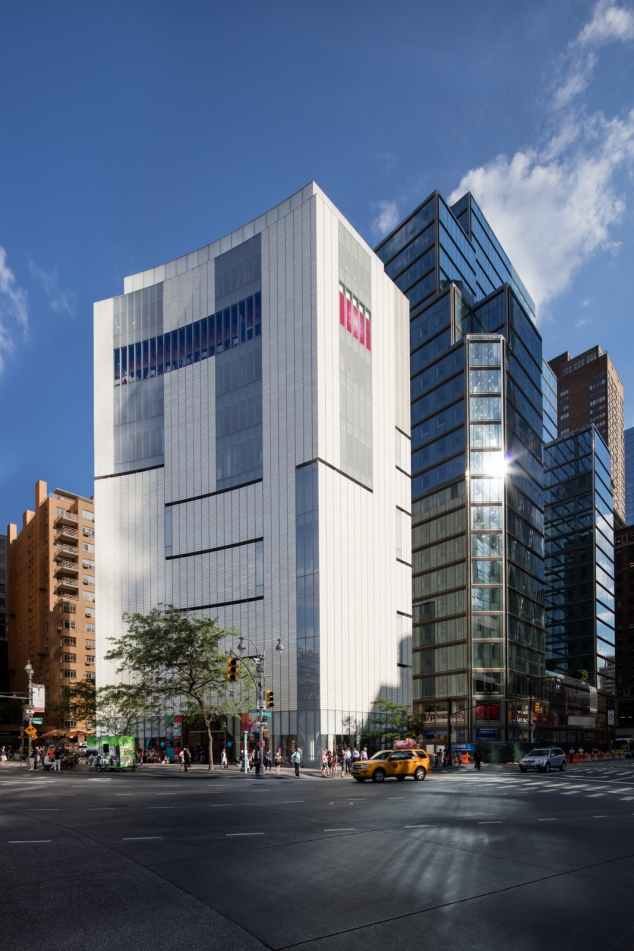 The Museum of Arts and Design at Columbus Circle
click image to enlarge
Maintenance Manager
The Museum of Arts and Design is looking for a Maintenance Manager for its facility on Columbus Circle.
See More...
Responsibilities include, but are not limited to:
Oversee installations, inspections, repairs, renovations, routine maintenance and troubleshooting, as well as building, mechanical, electrical, fire/life safety and plumbing systems.
Perform and or coordinate small renovation and/or construction projects throughout the building including but not limited to: painting, molding installation/repair, special installations such as lighting fixtures/design related installs, floor refinishing, metal cleaning polishing, furniture relocation/installation
Coordinate building equipment repair and maintenance for services related to plumbing, gas, HVAC, generator, domestic water, electricity, elevator, window washing, etc.
Coordinate monthly and annual generator tests/inspections and refill generator tank as necessary to full in compliance with hand-carry transport regulations
Supervise and coordinate daily and special event porters contracted through janitorial company for all building cleaning
Implement the cleaning schedule for daily, monthly and annual services to be rendered
Maintain inventory of cleaning supplies and submit orders as necessary
Coordinate and/or perform snow removal as necessary
Coordinate trash removal and dumpster rental as necessary
Coordinate bi-weekly pest control inspections
Other responsibilities include:
Some evening and weekend responsibilities involving scheduled work and emergency situations.  
Opening/Closing the Building as necessary by schedule
Assist Facilities Department and  Director of Facilities as required
Assist with event set-up/breakdown as necessary
Cross-train for other department responsibilities as necessary
Act as Fire Safety Director as necessary and maintain Certificate Of Fitness For Supervision Of Fire Alarm Systems And Other Related Systems (S-95) as required by the FDNY
Qualifications:
Must maintain Certificate of Fitness For Supervision Of Fire Alarm Systems And Other Related Systems (S-95) as required by the FDNY. 
Must maintain Certificate of Fitness for Handle Motor Fuel-Portable Containers (W-14). Experience in coordinating contractual operational services and construction work. 
Experience and aptitude in basic building repairs: Carpentry, Plumbing, Electrical and HVAC
Must have 3+ years maintenance experience.. 
Good personal communication and cooperation skills a must. 
Must be able to lift 40 pounds.
Must be comfortable working at heights.
To Apply:
Please send your resume and cover letter, including salary requirements, to: randy.rosenberg@madmuseum.org.  No phone calls or walk-ins, please.  No relocation expenses.
Controller
The Controller prepares the monthly financial reporting package, and provides financial statement analysis, budget, and audit support.  
See More...
PRINCIPAL DUTIES
Guides and monitors the month-end close process to ensure timely financial statement reporting
Maintains copies of all grants and receivables and reviews all grants to ensure that financial reporting requirements of funders are being met
Produces monthly financial statements, including Statement of Financial Position, Statement of Activities with comparisons to budget, Cash Flow Statement, and Memo pointing out significant information.  Submits reports to and reviews with senior management.
Maintains work papers and reconciliations for balance sheet and significant accounts
Develops the annual budget with senior management, with input from department heads
Produces grant expense reports as needed for Development & Education departments
Prepares financial statements  for grant reporting
Updates financial data on reporting agency websites
Maintains an orderly filing system for contracts and other important documentation
Responsible for approving disbursements, monitoring outstanding checks and cash flow
Prepares and processes bi-weekly payroll and retirement plan contributions
Responsible for sales tax filings
Attends finance & audit committee and/or board meetings to assist executive management in the presentation of monthly financial statement reports
Oversees and manages external auditors in the completion of the annual financial statement
Oversees and manages external accountants in preparation of the federal form 990
As needed, answer accounting and financial questions from the Director, Trustees , CFO or other Senior Staff members
Serves as back-up for Assistant Controller function
ABILITY TO
Represent the Museum of Arts and Design to the highest standards.
Be able to deal with multiple personality types while remaining professional and courteous.
Establish and maintain effective working relationships with others.
Adjust to changing priorities and work on multiple projects simultaneously.
Plan and organize work to meet schedules and deadlines.
Work under pressure and meet multiple deadlines at a given time paired with excellent attention to detail.
Have the desire to work in a fast-paced environment.
Want to help and support others.
Demonstrate attention to detail.
Possess excellent oral, written, presentation and organizational skills.
Be a self-starter who can take direction and contribute ideas.
Have the ability to work independently on projects while meeting deadlines.
Must be able to work well on their own while still being a team player.
Must exhibit a positive, "can do" attitude.
 Must possess excellent "people" skills and the ability to work effectively with employees at all levels within the organization, as well as Board members.
QUALIFICATIONS
Bachelor's degree in accounting; MBA or CPA preferred
Seven or more years supervisory/controllership/CFO experience required
Non-profit accounting experience preferred
Knowledge of Financial Edge, or other accounting software
Demonstrated proficiency in Microsoft Excel
Demonstrated knowledge of financial reporting and audit support
Superior attention to detail, with excellent analytical skills
MAD is an equal opportunity employer and does not discriminate in the hiring of personnel on the basis of race, creed, color, religion, national or ethnic origin, gender, age, Vietnam-era veteran or disabled veteran status, sexual orientation, marital status, disability, or any other protected status as provided by law. 
Please send your resume and cover letter to Denise.lewis@madmuseum.org
Manager of School, Youth, and Family Programs
The Museum of Arts and Design (MAD) seeks a Manager of School, Youth, and Family Programs to oversee and increase the school visit program. The successful candidate will be highly creative and energetic and have extensive experience working with school and teacher groups developing and implementing museum education teaching strategies. He or she will be expected to develop and present teacher training programs centered on ideas and issues related to the Museum's collections and exhibitions, as well as initiate and carry forward meaningful interactions and ongoing partnerships with the New York City Department of Education and its administrators. The training and supervision of part-time Artist Educators is a key responsibility of this position.
See More...
This position reports to MAD's Vice President of Education, but will work collaboratively across the Education Department and other departments throughout the Museum in programming, planning, collaborating, evaluation, and outreach.
Essential Responsibilities:
Manage the Museum Educator, the Artslife Coordinator, and a team of 8–9 part-time Artist Educators and interns.
Supervise the development of all school and teacher programs, comprising all school tours for grades K–12 (including students with special needs) and the summer MADlab for youth.
Ensure quality of program delivery, including handling the logistics, coordination, design, and implementation of school and teacher program staff to ensure smooth and efficient operations. This includes scheduling and administrative tasks related to school group visits (MADlab) and teacher programs.
Recruit and train part-time Artist Educators to work with school and teacher audiences; handle the administration of these part-time employees by processing timesheets, rectifying discrepancies on a timely basis, and managing performance.
Work closely with the Artslife Coordinator to plan and implement MAD's summer intensive internship program for New York City high school students.
Develop a system for evaluating the effectiveness of Artist Educators on a regular basis, specifically through observations, documentation, one-on-one conferencing, goal setting, and feedback.
Supervise, and teach regular professional development sessions for Artist Educators, focusing on inquiry-based strategies and exhibition content.
Manage annual budget for school and teacher programs.
Monitor, document, and evaluate all school and teacher programs to improve best practices and support the Museum's mission.
Manage reports and documentation of programming to report to funders and cultivate new funding opportunities.
Work collaboratively across departments, including Exhibitions, Development, and Press, to analyze target audiences, develop appropriate outreach strategies, and ensure effective promotion of programs using both print and electronic media.
Articulate and convey the Museum's mission and education programs to teachers, school administrators, and the Teacher Advisory Committee, and serve as a model Tour Facilitator as needed; facilitate at least one weekly MADlab tour for K–12 school groups.
Create and/or manage the development of educational materials, to include online pre- and post-visit materials, and lesson plans for use in schools and during visits to the Museum.
Business Outcomes:
Superior evaluations from school administrators regarding school and teacher programs
Increase in the number of school visits to the Museum through raising awareness of MAD's offerings among school administrators and teachers
Qualifications:
Master's degree or equivalent in Art Education, Museum Education, Arts Administration, or related field
3 or more years of experience teaching full-time in an art museum with K–12 audiences
At least 2 years of experience supervising the activities of others, including developing content and supporting materials, and implementing and evaluating programs
Strong administrative, budget management, problem-solving, and writing skills are a must; knowledge of contemporary art, craft, and design processes as well as understanding of human learning and artistic development preferred.
MAD is an equal opportunity employer and does not discriminate in the hiring of personnel on the basis of race, creed, color, religion, national or ethnic origin, gender, age, Vietnam Era Veteran or disabled veteran, sexual orientation, marital status, disability or any other protected status as provided by law.
Application:
Please submit cover letter and resume to education@madmuseum.org with "Manager of School, Youth and Family Programs" in the subject line. No phone calls, please.
Visitor Services Associate
Visitor Services Associates are the frontline staff of the Museum, providing the "face" of MAD to the public. They are responsible for ensuring a positive visitor experience and perform the following functions:
See More...
Actively greet the public.
Sell tickets, including cash and credit card transactions. Open, close, and manage cash till. Handle cash in accordance with museum policies and procedures.
Sell and process tickets; provide information about lectures, films, and special programs.
Sell memberships and provide member support.
Use point-of-sale and membership database programs (Blackbaud: Patron's Edge, Raiser's Edge)
Answer inquiries about exhibitions, programs, amenities, membership, and related matters.
Explain and follow museum policies.
Answer phone calls to Visitor Services desk.
Coordinate with various departments regarding daily operations, deliveries, and appointments.
Perform crowd control in lobby.
Restock the desk with exhibition, program and membership brochures.
Perform opening, mid-shift, and closing duties.
Notify Manager of the services and information that the public routinely requests.
Perform other duties as assigned.
Qualifications:
Candidates must possess, or have significant coursework towards, a Bachelors degree
Excellent customer service, problem-solving, and interpersonal skills.
Prior customer service experience preferred.
Must be able to work nights and weekends.
Fluency in at least one foreign language is ideal.
Knowledge of art, craft, design, or museum work is strongly preferred.
Scheduling:
Part-time Visitor Services Associates are scheduled up to 24 hours per week, on average.  Associates may occasionally work more than 24 hours, as requested to ensure desk coverage.
Rate of Pay: $12/Hour
Please submit a resume and brief cover letter expressing your interest in art and/or museum work to Iris Guerra, Visitor Services Coordinator, iris.guerra@madmuseum.org.
Opportunities for Artists
Artist Studios Residency and Van Lier Fellowship
The Artist Studios Program hosts residents and fellows daily in a live studio environment.  Residents and fellows are selected for four-month sessions (February – May, June – September, and October – January).  Each resident is assigned one day each week to work, along with a selection of Thursday and Friday evenings, while fellows work 40 hours per week (schedule varies).  Both residents and fellows have access to a variety of tools and materials, as well as professional development opportunities.
Successful applicants have a mature body of work and clearly understand the public-facing dimension of the program. To learn more about this opportunity click here.